In his recent article Chardonnay with Latitude, Boston Globe wine and food writer Stephen Meuse draws attention to the geography of wine. As with anything that varies spatially (such as coffee), geography can be used to learn about wine, just as wine can be used to learn about geography. The clever title of Meuse's article reflects his decision to write about several wines whose common characteristic is particularly geographic: they are all made from grapes of the Chardonnay variety, but from the northernmost extremity of that grape's geographic range.
Meuse describes the influence of both soil mineralogy and climate on grapes, and then provides tasting notes and retail information for a number of wines from close to 50 degrees North latitude. All of these wines are found in Europe, five degrees or more north of the northernmost wines in the Americas, though Meuse does not explain this difference, which has to do with the directions of currents in the north Atlantic Ocean. Northwestern Europe is warmed by the Gulf Stream, just as northeastern North America is cooled by the Labrador Current.
In his book The Geography of Wine, geographer Brian Sommers explains not only the geographic factors underlying terroir; he also examines the economic and social geographies of wine consumption and distribution. Wine, in fact, is of such interest to geographers that an entire specialty group of the Association of American Geographers is dedicated to wine scholarship.
Suggested activity:
Working as individuals or small groups in a class, identify common food or beverage items. What ingredients are required to produce each item? What factors determine where those ingredients can be produced? To what extent has human geography — such as patterns of trade or migration — influenced the location of these ingredients? What patterns of transportation are involved in producing the ingredients, processing the food or beverage, and delivering the product to consumers?
Former British Prime Minister (and future Nobel Laureate) Winston Churchill introduced the use of "curtain" as a metaphor for barriers in global geopolitics. He first used the term Iron Curtain in a 1946 speech at Westminster College in Fulton, Missouri. He applied coined the phrase to describe the rapidly growing post-war rift between the West and those countries allied with or controlled by the Soviet Union. That divide quickly became so profound that many students are likely to be unaware that the United States and the USSR were allies in World War II.
Churchill's great, metaphorical divide is most often associated with the very tangible Berlin Wall (1961-1989), whose physical dismantlement is correlated with the demise of the Soviet Union and the fading of the Iron Curtain concept. The term
Bamboo Curtain was the eastern counterpart to the Iron Curtain, applied to the boundaries between Asian command economies (such as China and North Korea) and neighboring capitalist countries. The term was never as widely recognized as Iron Curtain, both because of its discontinuity and because alliances among communist countries were frequently shifting.
In his 1995 novel Tortilla Curtain, T. Coraghessen Boyle applies the curtain metaphor to cultural divides within North America.
Among this week's interesting posts by geographer Amanda Briney is an article about the geography of Andorra, a small principality nestled in the Pyrenees Mountains between Spain and France.  Most of us know this simply as a very small country, so it is good to learn some context and details about it. Most interesting to me is that it has a very unusual form of sovereignty, shared by two sovereigns who do not reside in the country. Moreover, one is secular and one religious!
Andorra shares several characteristics with other places that are dependent on tourism for economic development. Splendid scenery, an interesting history, and a situation that is at once isolated and convenient help to draw tourists. Meanwhile, its small area does not include abundant natural resources, and its high elevation and steep slopes limit the productivity of agriculture.
What is unusual about tourism in Andorra, however, is its incredible volume — with more than one hundred visitors per resident in a given year!
Suggested activities:
1. Use the Very Small Country quiz on JetPunk.com to learn the names of the world's smallest countries — by area and population.
2. Divide the list among students, each of whom can learn about one country and report details about population, site, situation, and historical geography to the class as a whole. Research can begin with the Human Development Index, the CIA World FactBook, and the Census Bureau's International Database.
"His Blue Heaven" is an encouraging story about the recovery of a bird species previously in decline. Never listed as a Federal endangered species, the Eastern Bluebird (Sialia sialis) was nonetheless in serious decline through the middle of the twentieth century, and was listed as a rare or threatened species on some state lists.
Writing for the Boston Globe, Carly Gelsinger describes Robert Benson's lifelong commitment to the songbirds. A retiree living south of Boston in the town of Stoughton, he has been enamored of bluebirds since he was a child, and was delighted when their recovery began in the 1970s. Since then, he has done whatever he can to improve their chances for survival. Finding areas with generally supportive habitat, his main focus has been to design, build, and maintain nesting boxes that provide safety for the birds.
The natural range of Eastern Bluebirds is the entire eastern portion of North America, yet another example of a pattern associated with the well-known 100th meridian phenomenon. It entered decline throughout that region for a variety of reasons, the most important of which was pesticides, particularly the chlorinated hydrocarbons that were the subject of Rachel Carson's Silent Spring.  Hampering the recovery has been competition for habitat with such introduced species as sparrows and starlings.
Bluebirds are worth saving, not only for the beauty of their plumage and their song, but also because of their direct benefits to humans. For example, bluebirds can contribute to the production of environmentally sustainable wine grapes. As part of a program of integrated pest management, bluebirds can reduce or eliminate the need for insecticides. In recent visits to South Coast vineyards in Massachusetts, I have enjoyed observing these benefits directly!
In his journals, Henry David Thoreau demonstrated the value of prolonged, careful observation as the key to understanding the complex relationships within natural communities.  Similarly, Mr. Benson's decades of careful observation allows him to understand bluebirds so profoundly that he has been able to design a variety of nesting boxes that are attractive to bluebirds but not to the sparrows or starlings that would occupy homes that would look very similar to most people.
Suggested activities:
1. Read the His Blue Heaven article carefully, and identify key geographic and ecological concepts beyond those mentioned above. Write an essay that describes how this story could compare to efforts to restore species or habitat local to your area.
2. Work with the North American Bluebird Society or similar organization to develop a project that would encourage species recovery on your campus or in your community.
I give a lot of public presentations about coffee, usually focused on the millions of farmers around the world who are reliant on this commodity for an often meager livelihood. My talks may also cover the proper preparation of coffee, my regular travel with students to Nicaragua, and even the development of a sense of place at the corner café.
During the question and answer period at the end of each talk, I usually get asked one of two questions: "What do you think of Starbucks?" and "What do you think of Dunkin' Donuts?" The polite answer is the former appears slightly more concerned about the lives of farmers than the latter, and the only large, conventional farm I have been allowed to visit was a Starbucks "Cafe Practice" farm.
When the retail price of coffee is rising — as it is now — price becomes the main area of curiosity. To the question of why prices are rising, my initial inclination has been to answer "I don't care," because it usually is not very important. A 10 or 20 percent increase in the wholesale price of coffee would not make a significant difference in the household budget of even the most avid coffee drinker, and the chances of such an increase being transferred to a farm family (where it actually would make a difference) are nil.
So the topic did not interest me until late 2010, when the price increases at the wholesale level became substantial enough that some farmers did start to know about it. The first thing I noticed was that the price was rising so rapidly that some "coyotes" — often unscrupulous middlemen who tend to control local coffee markets — were often able to exceed fair-trade prices.  What could be a very good bargain for farmers in the short term, however, was starting to undermine cooperatives that had taken years to establish. When the price of coffee falls in the future, the farmers may be without an organization to secure prices that meet the costs of production.
In the dominant free-trade model, commodity prices tend to fluctuate, as high prices draw producers and low prices draw consumers in a perpetual see-saw of demand and supply. Conventionally economists recognize the risk inherent in reliance on commodity income in such a circumstance, but it was the distinct contribution of Raúl Prebisch to demonstrate the dependency that arises from the secular decline of commodity prices relative to the prices of manufactured goods over the long term. The "earnings" line in the hypothetical cartoon below models the random fluctuation predicted by conventional economics; the "purchasing power" line models the combination of short-term random fluctuations and long-term decline that dependency theory predicts for commodity producers.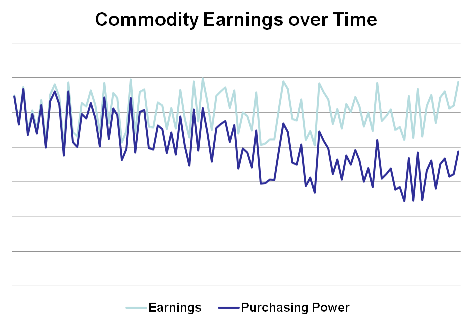 The combination of volatility, long-term decline in terms of trade, and specific historic circumstances led to the severe 1999 coffee crisis, which displaced many thousands of farm families. Some are calling the current, rapid price increases a "second coffee crisis," because of the dynamic mentioned above that threatens the cohesion of local cooperatives.
California coffee buyer Max Nicholas-Fulmer offers the clearest explanation I have seen for the quick run-up in coffee prices. His January 2011 post on the Royal Coffee blog has, in fact, been republished widely, including on Coffee Buzz and in The Specialty Coffee Chronicle (2011n3).
The article offers several reasons for the increase in the price of coffee futures. The first is that single-origin specialty coffees are beginning to command substantial premiums that in turn are bringing up prices for futures on all Arabica coffees. Second, coffee yields and coffee quality are greatly dependent on consistent climate conditions, and for those conditions to be found in the same locations as specific properties of soil and topography. Nicholas-Fulmer gives several examples of the uncertainty in rainfall and its timing that are resulting from climate change. Finally, he describes the impact of suburban sprawl, which is no longer limited to industrial countries. Even in many coffee-producing countries of the global south, automobile-dependent growth puts farmland in direct competition with suburban land markets, enticing many to leave what has become an unprofitable land use.
As he wrote in January, coffee Certified Stocks (the "C" Market) were trading at $2.45 in New York, the highest it had been since the 1997 bubble, when it had reached $3.20. As I write today, it is even higher, at $2.70, so Nicholas-Fulmer's observations appear to be relevant for the foreseeable future.
Suggested activities:
1. To learn about the relative prices of coffee at each stage of the commodity chain,  play Kelly Whalen's game Your Coffee Dollar, which is on the web site for the PBS-Frontline program on coffee in Mexico and Guatemala. The low values the game ascribes to coffee growers are actually optimistic — close to 97 percent of coffee is sold in conventional markets that tend to pay growers even less that the amounts suggested in this exercise.
2. Visit a local, independent coffee shop and inquire about where the coffee comes from, whether price fluctuations are affecting the shop, and how much the staff knows about the production areas of the coffee.
Although education reform efforts in the United States have focused on basic writing and math literacy, many leaders are increasingly concerned about the erosion of the country's leadership in the STEM disciplines:  Science, Technology, Engineering, and Mathematics. For this reason, STEM education is increasingly the focus of education reformers and stakeholders from regional business groups to state governments to the White House science advisors.
In my own outreach work with K-12 students (mainly at the middle school level), the relationship between geography education and STEM education is increasingly clear. Because geography is both a social science and a physical science, the relationships between geography and STEM are sometimes less than clear.
In a recent letter to Dr. John Holdren, one of President Obama's top science advisors, a coalition of geography organizations makes a strong case for geography and geospatial education as part of a national STEM-education policy. The Coalition of Geospatial Organizations (COGO) includes both the Association of American Geographers and many organizations with more specific, technical missions, such as the American Society for Photogrammetry and Remote Sensing.
All of the groups agree that the current state of thinking on STEM is too narrow in its exclusion of geography. Specifically, they make the case for geographic education, which they note is missing from the PCAST report Prepare and Inspire: K-12 STEM Education for the Future. They make the following arguments for its inclusion:
A 2009 White House budget calls for placed-based policies and programs
A 2006 Department of Labor report identified geospatial technologies as one of twelve New and Emerging Occupations
In 2010, the Department of Labor identified geography as a Knowledge and Skill Area central to employment involving the geospatial technologies it had previously identified
The National Science Foundation provided $7 million in funding to geography research projects in 2009-2010
National Geospatial Technology Center for Excellence is funded in part by NSF for the purpose of improving university-level geography education; strong geography education in the K-12 sector is a prerequisite for success in these efforts
President Obama has said, "We must educate our children to compete in an age where knowledge is capital, and the marketplace is global."
The PCAST report itself warns that methods for teaching STEM disciplines must be developed that allows students to apply what they learn to real-world problems. Geography is an integrative discipline that is well-suited to this critical need.
The case for geographic education is not limited to careers and technology, of course; as I have argued before my own state government's education officials, geography is an essential foundation for cultural literacy and public diplomacy as well, and are good preparation for a wide range of both STEM and non-STEM careers.
Suggested activities
Contact education leaders in your state – perhaps starting with the state's Geographic Alliance – to learn the current status of geographic education in the state.
Review the 18 standards for geography education identified in the Geography for Life project. Which of these are most relevant to the geospatial careers for which the COGO group advocates?
Make a list of the geospatial technologies on which you rely – directly or indirectly – each day. How many e-commerce web sites, for example, employ Geographic Information Systems as part of their interface with potential customers?
Landscape ecology describes how habitat fragmentation can limit biodiversity in several ways.  Small fragments may mean small breeding populations, in turn limiting genetic variety within a species. In small fragments, the relative importance of edge effects is increased, and these effects often include light, noise, or pollutants.
For these reasons, it is surprising how much avian biodiversity can be encouraged on very small patches of land. NPR reporter and bird lover Melissa Block learned this when she invited Bill Thompson, the editor of Bird Watcher's Digest, to her backyard in Washington, D.C. Although her property measures less than 1/100 of an acre, Thompson helps her to identify ways of attracting a greater variety of birds. His technique relies on a combination of carefully-chosen
As he mentions, outside domestic cats impede efforts to attract birds. On my family's 0.31 acre in Bridgewater, Massachusetts, our wildlife efforts compete with the well-meaning efforts of a person who maintains feral cats in the adjacent woods. We have overcome the resultant predation (and intimidation) of birds by providing a combination of feed and habitat very similar to what Thompson prescribed.
1. In most parts of the world, the use of metric units means that people can readily make comparisons that are difficult in the United States, where the old English units are still used. For example, 1/100 of a hectare is 100 square meters, whereas 1/100 of an acre is 435.6 square feet. Ten thousand square meters to the hectare and one hundred hectares to the square kilometer; these are quite easy, compared to 43,560 square feet per acre and 640 acres per square mile. For geographers working in the United States, it is worth taking the time to memorize some of the conversions related to area or distance.
2. The National Wildlife Federation offers guidance to people wishing to improve conditions for wildlife on their own property, offering certification for gardens and backyards that provide a combination of water, habitat, and food sources for wildlife. Choose a piece of property — perhaps your own, that of a family member, or part of your school campus. Identify the boundaries of the property and its size, then visit the NWF backyard wildlife page to see whether conditions on the property are favorable for wildlife. Prepare a site map that shows the resources that are present, and write a brief description of how the site compares to the certification standards. If it is suitable for certification — or can be made so — consider applying to NWF for formal certification.
For 35 years, both the people and the land of Iraq have suffered from varying combinations of dictatorship, war, and sanctions. Nature Iraq is an active consortium of scientists and other experts who are dedicated to assessing the current state of the environment in Iraq. Operating at great risk to themselves, they are documenting the consequences of civil strife on water resources, cultural adaptations, biodiversity, and soils.
Working under the auspices of the United Nations Environment Programme (UNEP), Nature Iraq has the short-term goal of assessing current conditions, with longer-term commitments to resource protection and environmental restoration. The Nature Iraq web site provides reports on the group's many projects, quarterly newsletters, and opportunities to support this work.
As detailed on the site's What We Do page, Nature Iraq recognizes that environmental problems such as desertification and climate change are not constrained by political boundaries, but it also recognizes that localized conditions can have a tremendous influence on the precise ways in which such global processes unfold.
As I wrote last week on my EarthView blog, the Tokelau archipelago enjoyed a brief moment of  global media attention as three of its teens were rescued after a record 50 days lost at sea. Tokelau is a self-administering territory of New Zealand comprising three atolls spread over 100 kilometers of the Pacific Ocean, close to a thousand kilometers northeast of Fiji. Although the territorial waters of Tokelau extend over tens of thousands of square kilometers, its 1500 residents share lands that measure a total of only 12 square kilometers, divided among many islets that ring the lagoons of the three atolls.
This week, many of the world's small islands are hoping to draw attention to a more important survival story. Members of the Alliance of Small Island States (AOSIS) are attending the UN Climate Change Conference in Cancun, where the group is receiving an award from the Center for International Environmental Law (CIEL). Low-lying island and coastal states have been among the leaders in focusing attention on the threat of climate change.
Although it is not a member of AOSIS, the topography of Tokelau exemplifies the special circumstances that have moved these states and territories to the center of the climate debate. The highest elevation among the islands of Tokelau is just 5 meters above sea level, with most of its land found at elevations of only 3 meters. With a total land area of just 12 kilometers, and no land more than a few hundred meters from the Pacific Ocean, even modest rises in sea level threaten the safety of residents, the security of their properties, and the very survival of the territory.
Melting polar ice and the thermal expansion of ocean waters is leading to an increase in mean sea level. In addition to the permanent loss of land to rising seas, storm surges associated with hurricanes and typhoons are likely to threaten much greater proportions of low-lying islands, if they build on levels that are even a meter or two higher than current levels.
Today, workers who need to access railroad tracks for maintenance and repairs typically reach the work site in a utility truck that has been outfitted with an extra set of special HyRail guide wheels that allow it to follow the tracks.
Through much of the twentieth century, however, dedicated railcars were in common use for bringing small groups of workers to remote stretches of railroad. Like many people, I first became aware of them through images — often humorous — in movies and on television of the old, manual versions known as handcars or pump trolleys. As an undergraduate geographer and avid camper and hiker in the 1980s, I would often fantasize about getting some friends together with some old handcars, packing them with some camping equipment, and setting off for some unique cross-country experiences.
As an undergraduate geography student, I had learned that the United States reached its peak railroad mileage early in the twentieth Century, because nineteenth-century settlement policies had encouraged redundant tracks that were not economically viable in the long run. As railroads consolidated and became more competitive, the total amount of track in use declined steadily, even as the amount of shipping dramatically increased.  This gave me some hope that plenty of abandoned railroads would be available for exploration, and since most tracks have a very low topographic gradient, it would be an easy way to apply my strong interest in transects to otherwise little-known terrain. I never did actually find a handcar, and I also learned that when track is abandoned, it is usually removed in order to recycle the steel. Finding inactive track, therefore, is something that must be coordinated very carefully with active railroad operators!
In real life, I have still never seen the handcars, and I have only seen the motorized railcars  in Mexico. During a 1989 summer term at the University of the Americas Puebla, I enjoyed walking into the town of Cholula each day, often to climb the famous pyramid there. It was near the pyramid that I would occasionally see a group of workers zoom past me in a motorized railcar. (What looked like one pyramid, incidentally, was known locally as las piramides, as the original array of four pyramids was buried by a single, large one, which was in turn buried two more times before being capped by a Catholic cathedral in a most dramatic example of sequent occupance.) They would zip by quickly, before I had a chance to get a photo, so I started having my camera ready whenever I was at the crossing. As far as I was concerned, they were living out the dream of independent rail travel! My preparedness paid off, and I eventually got just this one shot of four men, sporting shiny hard hats and a red safety flag. They clearly were not on a camping trip, but they had looks of satisfaction and purpose; they knew they had the coolest vehicle in town!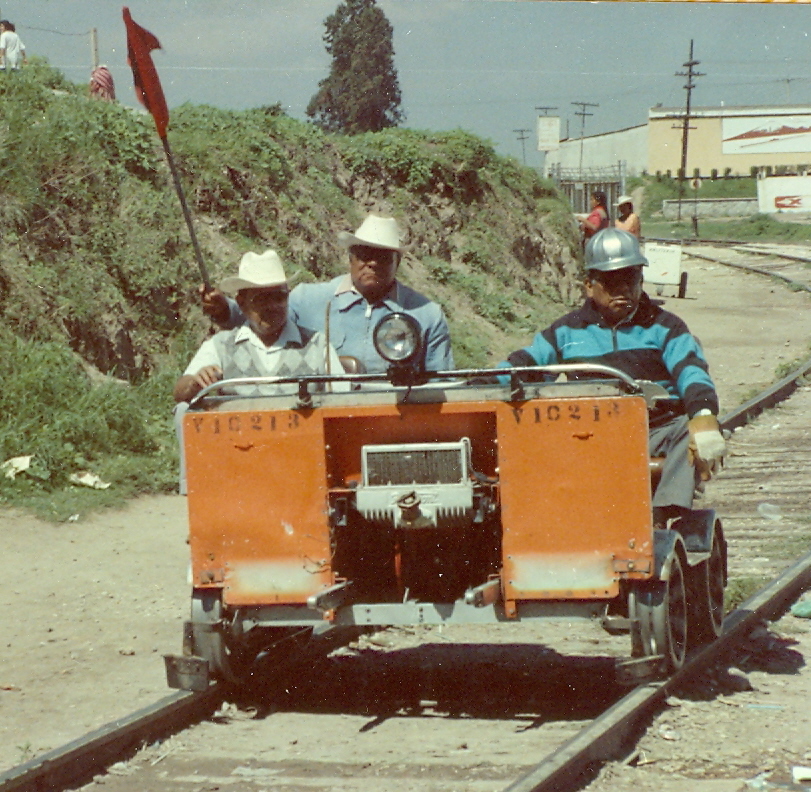 As Alexis de Tocqueville observed almost two centuries ago, civil society in the United States is remarkably robust, with an organization to be found for even the seemingly most obscure interests. I should not have been surprised, therefore, to learn of a nationwide network of people interested in these fun little carts. The Boston Globe article Dreams realized, On a Small Scale was my introduction to NARCOA, the North American Railcar Operators Association. Its 1,800 members share advice on finding and maintaining the vehicles — the classified ads on the NARCOA web site are most enticing! Most importantly, NARCOA members organize excursions, for which they carefully assure that clear track is available.
The  Boston Globe article cited above describes such an excursion in New Hampshire, and the online version includes a video.  The video conveys two important things to me: first, this is a great way to explore landscapes, at a moderate speed and from a unique vantage point. Second, the movement of these little machines can be just as spritely as I remember from the Cholula encounters.
Suggested Activities
1. Topographic maps. Identify any section of train track on a USGS topographic map at 1:24,000 or 1:25,000 scale.  Look carefully at contour lines (and possibly benchmarks) to identify the elevation at each end of the section. Measure the length of the section and change in elevation to identify the average slope of the section.  Then, identify the elevation at regular intervals along the track in order to graph a vertical profile of the track. The vertical axis of the graph should be at a different scale than the horizontal axis, to provide vertical exaggeration.) Repeat the process with streams and roads in the same area, to see how much effort may have been made to minimize slopes on the railroad. If the railroad passes through hilly or mountainous terrain, look for evidence of road cuts in the contours.
2. Railroads. Railroad museums can be found in cities and towns throughout North America, and are excellent places to learn the historic geography of a region or of the whole continent. From single box cars preserved on a town green to major installations such as the B&O Railroad Museum or the Golden Spike National Historic Site, railroad museums provide insight into the economic geography of the past, as well as patterns of migration and vernacular landscapes. (A small, extraordinary example is the Children's Holocaust Memorial in Tennessee, housed in a boxcar that had been used in the Holocaust.) Similarly, railroad hobbyists — from railcar owners to model collectors to trainspotters — have learned a lot about geography from the pursuit of their hobbies. Identify a museum and/or an association of railroad enthusiasts in your area, and pay a visit. Write a short essay about the local geography lessons you learn in the process.