Click here to view Monsoon in India  Animation
Click here to view Industrial Production Past & Present Animation
By Wiley author Barbara Murck

"We don't need to go to lectures, we're livin' it." – Cali, one of our fantastic students in the University of Toronto's Ecuador 2012 Summer Abroad course.
I'm passing along this quote, just in case you needed additional reinforcement on the value of field experiences for students. Cali said this spontaneously while we were hiking up the volcano Bartolome in the Galápagos Islands, and it quickly became – for me – the quote of the course.
Certainly very few students (and very few profs) get the opportunity to visit the Galápagos, the Andes, or the Amazon, and we went to all three of them for this course. The trip was amazing – life-changing – for all of us, in many ways. Swimming with sharks, sea lions, and penguins, seeing a pygmy marmoset from less than 2 meters away, and hiking up the highest mountain on the Equator (Volcan Chimborazo) were some of my personal highlights.
The trip was more than just fun and eye-opening. It was also physically and mentally intense, and it had a very serious academic core. The ground we covered, both literally and academically, was impressive. We went from freezing in parkas and hats at 5300 m altitude in the Andes, to hot and sweaty in rubber boots in the Amazon, to snorkeling in the Pacific Ocean in San Cristóbal. Academically the breadth was just as significant. Between my own lectures and those of my Canadian and Ecuadorean co-instructors we covered everything from fisheries, tourism, and oil development to island biogeography, rainforest ecology, and invasive species to hotspot volcanism, subduction zones, and El Niño – and more.
For me there were some "small" moments that really drove home the importance and impact of teaching in the field. In the Galápagos I gave a lecture on atmospheric and oceanic circulation systems that most of my students had heard already in their first Environmental Science course, and probably in other courses as well. But teaching about the trade winds in a classroom in Toronto is one thing; asking students to monitor the wind every morning and check the clouds brings them to a whole different level of understanding. When they realized that, yes, in the Galápagos the wind actually does blow steadily from the SSE every day, all day long, the significance of the trade winds and how the whole atmosphere circulation system fits together really solidified their understanding. Walking upright in a lava tunnel on Isabela Island and measuring thick sequences of pyroclastics in the Andes demonstrate the power of geologic processes in a very immediate and physical way. Seeing penguins that are endemic to the tropics, and understanding the role of the cold Humboldt and Cromwell currents in moderating temperatures on land makes a connection between life and the physical environment in a way that is virtually impossible in the classroom.
Although it was truly great to have the opportunity to go on this trip to Ecuador with our 32 wonderful students, I do actually believe quite strongly in the value of field experiences closer to home. We have instituted a program of field trips for our introductory Geography students. There are 300 students in the course, and the instructor takes 100 to 150 of them at a time (with help from Teachings Assistants) on a series of field trips in the Toronto area. They visit housing projects, look at shorelines, take soil samples, monitor the weather, and look at urban development. For some of them it seems like it must be the first time they have set foot outside of their own homes, the world is so new to them. This is not the case, of course, but it definitely is new for them to be looking at their world through academic eyes.
We can offer this type of experience to our students. We can't get all of them to the Andes, the Amazon, or the Galápagos, but we can make an effort to ensure that every student gets outside – preferably a little bit out of their comfort zone. Ultimately, if we want our lectures to be meaningful we need to get students away from the lecture hall and into an environment where it all comes together and makes sense.
In his recent article Chardonnay with Latitude, Boston Globe wine and food writer Stephen Meuse draws attention to the geography of wine. As with anything that varies spatially (such as coffee), geography can be used to learn about wine, just as wine can be used to learn about geography. The clever title of Meuse's article reflects his decision to write about several wines whose common characteristic is particularly geographic: they are all made from grapes of the Chardonnay variety, but from the northernmost extremity of that grape's geographic range.
Meuse describes the influence of both soil mineralogy and climate on grapes, and then provides tasting notes and retail information for a number of wines from close to 50 degrees North latitude. All of these wines are found in Europe, five degrees or more north of the northernmost wines in the Americas, though Meuse does not explain this difference, which has to do with the directions of currents in the north Atlantic Ocean. Northwestern Europe is warmed by the Gulf Stream, just as northeastern North America is cooled by the Labrador Current.
In his book The Geography of Wine, geographer Brian Sommers explains not only the geographic factors underlying terroir; he also examines the economic and social geographies of wine consumption and distribution. Wine, in fact, is of such interest to geographers that an entire specialty group of the Association of American Geographers is dedicated to wine scholarship.
Suggested activity:
Working as individuals or small groups in a class, identify common food or beverage items. What ingredients are required to produce each item? What factors determine where those ingredients can be produced? To what extent has human geography — such as patterns of trade or migration — influenced the location of these ingredients? What patterns of transportation are involved in producing the ingredients, processing the food or beverage, and delivering the product to consumers?
Former British Prime Minister (and future Nobel Laureate) Winston Churchill introduced the use of "curtain" as a metaphor for barriers in global geopolitics. He first used the term Iron Curtain in a 1946 speech at Westminster College in Fulton, Missouri. He applied coined the phrase to describe the rapidly growing post-war rift between the West and those countries allied with or controlled by the Soviet Union. That divide quickly became so profound that many students are likely to be unaware that the United States and the USSR were allies in World War II.
Churchill's great, metaphorical divide is most often associated with the very tangible Berlin Wall (1961-1989), whose physical dismantlement is correlated with the demise of the Soviet Union and the fading of the Iron Curtain concept. The term
Bamboo Curtain was the eastern counterpart to the Iron Curtain, applied to the boundaries between Asian command economies (such as China and North Korea) and neighboring capitalist countries. The term was never as widely recognized as Iron Curtain, both because of its discontinuity and because alliances among communist countries were frequently shifting.
In his 1995 novel Tortilla Curtain, T. Coraghessen Boyle applies the curtain metaphor to cultural divides within North America.
From our Geography Directions site reviewing Wiley-Blackwell's Geography Compass review journal covering the entire discipline.  Keep up with cutting edge academic geography.  These articles may be useful for introducing students to the discipline or may be appropriate for upper division Geography classes.
Remembering
by Fiona Ferbrache
As outlined in a previous post, "Climate Change in the Pacific:  Help we're drowning," Pacific islands are bearing the first clear environmental shifts of global climate change.  Not only are the islands being threatened by rising sea levels, their territory and societies 'drowning' in the process; but, climate change is combining with other environmental conditions to jeopardize the essential fresh water sources that these insular societies depend on.
On October 2011, the Pacific island nation of Tuvalu declared a national state of emergency.   The emergency is that the country's fresh water sources are running out and others are unfit for consumption.  Some areas of the island were projected to completely run out of potable, fresh water within two days of the declaration.  The conditions that led to the state of emergency are related to the longer term climate changes, but also to seasonal shifts.  A seasonal, La Niña weather pattern has been causing drought in Tuvalu.  Below-average rainfall has been experienced since June or at least and is projected to continue into December.  Most of the country's fresh water supply comes from collected rainwater.  Another source of freshwater lies under the ground.  Yet, this source is limited.  Tuvalu is a series of low-lying coral atolls.  The geology of coral atolls does not support deep groundwater sources.  Further, the shallow groundwater that is found on these islands is being compromised by rising sea levels as salt water infiltrates the groundwater supply.  A reporting of animals deaths leads Tuvaluan Red Cross officials to question the safety of the groundwater supply for consumption.  Considering the nature of groundwater recharge, and most acute in Tuvalu, the lack of rainfall is accelerating the infiltration of seawater into subterranean water features.  The impacts of water shortages are felt in the islands' traditional subsistence agriculture activities as well as water rationing affecting basic water services.  Tuvalu's neighbor and New Zealand territory, Tokelau followed up soon after with its own state of emergency declaration.
The relief is coming from international organizations like the Red Cross as well as from the government of New Zealand.  The people of Tuvalu and Tokelau are being aided with water collection supplies, desalinization units and plenty of bottled water.  The larger affects are still yet to come.  In particular, questions about the long-term settlement of many low-lying Pacific islands have implications for nationhood, cultural traditions, economic rights, and logistics of mass migration.
Among this week's interesting posts by geographer Amanda Briney is an article about the geography of Andorra, a small principality nestled in the Pyrenees Mountains between Spain and France.  Most of us know this simply as a very small country, so it is good to learn some context and details about it. Most interesting to me is that it has a very unusual form of sovereignty, shared by two sovereigns who do not reside in the country. Moreover, one is secular and one religious!
Andorra shares several characteristics with other places that are dependent on tourism for economic development. Splendid scenery, an interesting history, and a situation that is at once isolated and convenient help to draw tourists. Meanwhile, its small area does not include abundant natural resources, and its high elevation and steep slopes limit the productivity of agriculture.
What is unusual about tourism in Andorra, however, is its incredible volume — with more than one hundred visitors per resident in a given year!
Suggested activities:
1. Use the Very Small Country quiz on JetPunk.com to learn the names of the world's smallest countries — by area and population.
2. Divide the list among students, each of whom can learn about one country and report details about population, site, situation, and historical geography to the class as a whole. Research can begin with the Human Development Index, the CIA World FactBook, and the Census Bureau's International Database.
I give a lot of public presentations about coffee, usually focused on the millions of farmers around the world who are reliant on this commodity for an often meager livelihood. My talks may also cover the proper preparation of coffee, my regular travel with students to Nicaragua, and even the development of a sense of place at the corner café.
During the question and answer period at the end of each talk, I usually get asked one of two questions: "What do you think of Starbucks?" and "What do you think of Dunkin' Donuts?" The polite answer is the former appears slightly more concerned about the lives of farmers than the latter, and the only large, conventional farm I have been allowed to visit was a Starbucks "Cafe Practice" farm.
When the retail price of coffee is rising — as it is now — price becomes the main area of curiosity. To the question of why prices are rising, my initial inclination has been to answer "I don't care," because it usually is not very important. A 10 or 20 percent increase in the wholesale price of coffee would not make a significant difference in the household budget of even the most avid coffee drinker, and the chances of such an increase being transferred to a farm family (where it actually would make a difference) are nil.
So the topic did not interest me until late 2010, when the price increases at the wholesale level became substantial enough that some farmers did start to know about it. The first thing I noticed was that the price was rising so rapidly that some "coyotes" — often unscrupulous middlemen who tend to control local coffee markets — were often able to exceed fair-trade prices.  What could be a very good bargain for farmers in the short term, however, was starting to undermine cooperatives that had taken years to establish. When the price of coffee falls in the future, the farmers may be without an organization to secure prices that meet the costs of production.
In the dominant free-trade model, commodity prices tend to fluctuate, as high prices draw producers and low prices draw consumers in a perpetual see-saw of demand and supply. Conventionally economists recognize the risk inherent in reliance on commodity income in such a circumstance, but it was the distinct contribution of Raúl Prebisch to demonstrate the dependency that arises from the secular decline of commodity prices relative to the prices of manufactured goods over the long term. The "earnings" line in the hypothetical cartoon below models the random fluctuation predicted by conventional economics; the "purchasing power" line models the combination of short-term random fluctuations and long-term decline that dependency theory predicts for commodity producers.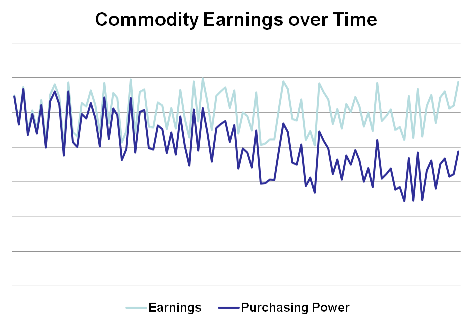 The combination of volatility, long-term decline in terms of trade, and specific historic circumstances led to the severe 1999 coffee crisis, which displaced many thousands of farm families. Some are calling the current, rapid price increases a "second coffee crisis," because of the dynamic mentioned above that threatens the cohesion of local cooperatives.
California coffee buyer Max Nicholas-Fulmer offers the clearest explanation I have seen for the quick run-up in coffee prices. His January 2011 post on the Royal Coffee blog has, in fact, been republished widely, including on Coffee Buzz and in The Specialty Coffee Chronicle (2011n3).
The article offers several reasons for the increase in the price of coffee futures. The first is that single-origin specialty coffees are beginning to command substantial premiums that in turn are bringing up prices for futures on all Arabica coffees. Second, coffee yields and coffee quality are greatly dependent on consistent climate conditions, and for those conditions to be found in the same locations as specific properties of soil and topography. Nicholas-Fulmer gives several examples of the uncertainty in rainfall and its timing that are resulting from climate change. Finally, he describes the impact of suburban sprawl, which is no longer limited to industrial countries. Even in many coffee-producing countries of the global south, automobile-dependent growth puts farmland in direct competition with suburban land markets, enticing many to leave what has become an unprofitable land use.
As he wrote in January, coffee Certified Stocks (the "C" Market) were trading at $2.45 in New York, the highest it had been since the 1997 bubble, when it had reached $3.20. As I write today, it is even higher, at $2.70, so Nicholas-Fulmer's observations appear to be relevant for the foreseeable future.
Suggested activities:
1. To learn about the relative prices of coffee at each stage of the commodity chain,  play Kelly Whalen's game Your Coffee Dollar, which is on the web site for the PBS-Frontline program on coffee in Mexico and Guatemala. The low values the game ascribes to coffee growers are actually optimistic — close to 97 percent of coffee is sold in conventional markets that tend to pay growers even less that the amounts suggested in this exercise.
2. Visit a local, independent coffee shop and inquire about where the coffee comes from, whether price fluctuations are affecting the shop, and how much the staff knows about the production areas of the coffee.
Although education reform efforts in the United States have focused on basic writing and math literacy, many leaders are increasingly concerned about the erosion of the country's leadership in the STEM disciplines:  Science, Technology, Engineering, and Mathematics. For this reason, STEM education is increasingly the focus of education reformers and stakeholders from regional business groups to state governments to the White House science advisors.
In my own outreach work with K-12 students (mainly at the middle school level), the relationship between geography education and STEM education is increasingly clear. Because geography is both a social science and a physical science, the relationships between geography and STEM are sometimes less than clear.
In a recent letter to Dr. John Holdren, one of President Obama's top science advisors, a coalition of geography organizations makes a strong case for geography and geospatial education as part of a national STEM-education policy. The Coalition of Geospatial Organizations (COGO) includes both the Association of American Geographers and many organizations with more specific, technical missions, such as the American Society for Photogrammetry and Remote Sensing.
All of the groups agree that the current state of thinking on STEM is too narrow in its exclusion of geography. Specifically, they make the case for geographic education, which they note is missing from the PCAST report Prepare and Inspire: K-12 STEM Education for the Future. They make the following arguments for its inclusion:
A 2009 White House budget calls for placed-based policies and programs
A 2006 Department of Labor report identified geospatial technologies as one of twelve New and Emerging Occupations
In 2010, the Department of Labor identified geography as a Knowledge and Skill Area central to employment involving the geospatial technologies it had previously identified
The National Science Foundation provided $7 million in funding to geography research projects in 2009-2010
National Geospatial Technology Center for Excellence is funded in part by NSF for the purpose of improving university-level geography education; strong geography education in the K-12 sector is a prerequisite for success in these efforts
President Obama has said, "We must educate our children to compete in an age where knowledge is capital, and the marketplace is global."
The PCAST report itself warns that methods for teaching STEM disciplines must be developed that allows students to apply what they learn to real-world problems. Geography is an integrative discipline that is well-suited to this critical need.
The case for geographic education is not limited to careers and technology, of course; as I have argued before my own state government's education officials, geography is an essential foundation for cultural literacy and public diplomacy as well, and are good preparation for a wide range of both STEM and non-STEM careers.
Suggested activities
Contact education leaders in your state – perhaps starting with the state's Geographic Alliance – to learn the current status of geographic education in the state.
Review the 18 standards for geography education identified in the Geography for Life project. Which of these are most relevant to the geospatial careers for which the COGO group advocates?
Make a list of the geospatial technologies on which you rely – directly or indirectly – each day. How many e-commerce web sites, for example, employ Geographic Information Systems as part of their interface with potential customers?