In his recent article Chardonnay with Latitude, Boston Globe wine and food writer Stephen Meuse draws attention to the geography of wine. As with anything that varies spatially (such as coffee), geography can be used to learn about wine, just as wine can be used to learn about geography. The clever title of Meuse's article reflects his decision to write about several wines whose common characteristic is particularly geographic: they are all made from grapes of the Chardonnay variety, but from the northernmost extremity of that grape's geographic range.
Meuse describes the influence of both soil mineralogy and climate on grapes, and then provides tasting notes and retail information for a number of wines from close to 50 degrees North latitude. All of these wines are found in Europe, five degrees or more north of the northernmost wines in the Americas, though Meuse does not explain this difference, which has to do with the directions of currents in the north Atlantic Ocean. Northwestern Europe is warmed by the Gulf Stream, just as northeastern North America is cooled by the Labrador Current.
In his book The Geography of Wine, geographer Brian Sommers explains not only the geographic factors underlying terroir; he also examines the economic and social geographies of wine consumption and distribution. Wine, in fact, is of such interest to geographers that an entire specialty group of the Association of American Geographers is dedicated to wine scholarship.
Suggested activity:
Working as individuals or small groups in a class, identify common food or beverage items. What ingredients are required to produce each item? What factors determine where those ingredients can be produced? To what extent has human geography — such as patterns of trade or migration — influenced the location of these ingredients? What patterns of transportation are involved in producing the ingredients, processing the food or beverage, and delivering the product to consumers?
I give a lot of public presentations about coffee, usually focused on the millions of farmers around the world who are reliant on this commodity for an often meager livelihood. My talks may also cover the proper preparation of coffee, my regular travel with students to Nicaragua, and even the development of a sense of place at the corner café.
During the question and answer period at the end of each talk, I usually get asked one of two questions: "What do you think of Starbucks?" and "What do you think of Dunkin' Donuts?" The polite answer is the former appears slightly more concerned about the lives of farmers than the latter, and the only large, conventional farm I have been allowed to visit was a Starbucks "Cafe Practice" farm.
When the retail price of coffee is rising — as it is now — price becomes the main area of curiosity. To the question of why prices are rising, my initial inclination has been to answer "I don't care," because it usually is not very important. A 10 or 20 percent increase in the wholesale price of coffee would not make a significant difference in the household budget of even the most avid coffee drinker, and the chances of such an increase being transferred to a farm family (where it actually would make a difference) are nil.
So the topic did not interest me until late 2010, when the price increases at the wholesale level became substantial enough that some farmers did start to know about it. The first thing I noticed was that the price was rising so rapidly that some "coyotes" — often unscrupulous middlemen who tend to control local coffee markets — were often able to exceed fair-trade prices.  What could be a very good bargain for farmers in the short term, however, was starting to undermine cooperatives that had taken years to establish. When the price of coffee falls in the future, the farmers may be without an organization to secure prices that meet the costs of production.
In the dominant free-trade model, commodity prices tend to fluctuate, as high prices draw producers and low prices draw consumers in a perpetual see-saw of demand and supply. Conventionally economists recognize the risk inherent in reliance on commodity income in such a circumstance, but it was the distinct contribution of Raúl Prebisch to demonstrate the dependency that arises from the secular decline of commodity prices relative to the prices of manufactured goods over the long term. The "earnings" line in the hypothetical cartoon below models the random fluctuation predicted by conventional economics; the "purchasing power" line models the combination of short-term random fluctuations and long-term decline that dependency theory predicts for commodity producers.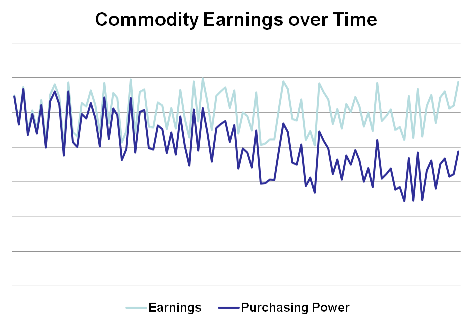 The combination of volatility, long-term decline in terms of trade, and specific historic circumstances led to the severe 1999 coffee crisis, which displaced many thousands of farm families. Some are calling the current, rapid price increases a "second coffee crisis," because of the dynamic mentioned above that threatens the cohesion of local cooperatives.
California coffee buyer Max Nicholas-Fulmer offers the clearest explanation I have seen for the quick run-up in coffee prices. His January 2011 post on the Royal Coffee blog has, in fact, been republished widely, including on Coffee Buzz and in The Specialty Coffee Chronicle (2011n3).
The article offers several reasons for the increase in the price of coffee futures. The first is that single-origin specialty coffees are beginning to command substantial premiums that in turn are bringing up prices for futures on all Arabica coffees. Second, coffee yields and coffee quality are greatly dependent on consistent climate conditions, and for those conditions to be found in the same locations as specific properties of soil and topography. Nicholas-Fulmer gives several examples of the uncertainty in rainfall and its timing that are resulting from climate change. Finally, he describes the impact of suburban sprawl, which is no longer limited to industrial countries. Even in many coffee-producing countries of the global south, automobile-dependent growth puts farmland in direct competition with suburban land markets, enticing many to leave what has become an unprofitable land use.
As he wrote in January, coffee Certified Stocks (the "C" Market) were trading at $2.45 in New York, the highest it had been since the 1997 bubble, when it had reached $3.20. As I write today, it is even higher, at $2.70, so Nicholas-Fulmer's observations appear to be relevant for the foreseeable future.
Suggested activities:
1. To learn about the relative prices of coffee at each stage of the commodity chain,  play Kelly Whalen's game Your Coffee Dollar, which is on the web site for the PBS-Frontline program on coffee in Mexico and Guatemala. The low values the game ascribes to coffee growers are actually optimistic — close to 97 percent of coffee is sold in conventional markets that tend to pay growers even less that the amounts suggested in this exercise.
2. Visit a local, independent coffee shop and inquire about where the coffee comes from, whether price fluctuations are affecting the shop, and how much the staff knows about the production areas of the coffee.
From our Concept Caching image cache that hopes to promote student spatial awareness by relating specific features on the Earth's surface with their visual character and GPS coordinates. Through the site photographs and GPS coordinates demonstrate core concepts in geography.  Images are "cached" for viewing by core concept and by region.  Images are certainly useful for introducing visual content to students in all Geography classes.
The link between food and land has been a crux of human-environment interaction.  Today that relationship is increasingly complex and abstract with many modern humans having no direct experience or conception of the land from which their food came.  The post Geography Directions: Eat to be healthy and save the planet provides an example of that disconnect.  Increasingly, the food we eat (recognizably that "we" is not an even, inclusive global "we") is affecting many diverse environments across the globe, which aggregates into a significant scale global environmental problem.  Also in the post is the world's development divide.  Increasingly, it is the diets of the developed world that ruin the environments in developing world or in emerging economies.  This image of the El Salvador environment reveals such an example as the legacy of global coffee demand among other globalized connections is evident on the landscape.  However, with the rise of truly global-scale environmental problems, like climate change, the world's affluent are eating away (yes, pun intended) at their own future.  For starters, we should reconsider the phrase, "You are what you eat," accounting for the indirect environmental consequences.
For the first several years after  my family moved to Massachusetts in 1997,  New York became a place we passed through as we drove between our new home in Bridgewater and our relatives in Maryland. Sometimes these trips would include a stay near the scenic Hudson with our geographer friend Jeff, who is a planner for, well, Scenic Hudson. In more recent years, we have spent a lot more time exploring the center of the state, as we take our daughter to and from a camp in the Adirondacks. One of those outings, in fact, led me to post a Concept Cache about a coffee shop in rural central New York.
During all of this time, our visits to New York City have been relatively few, though we have enjoyed the visits when we have enjoyed The City (as it is often known) immensely when we have made the effort. The "effort" has to do with two main factors: expense and transportation. Both of these barriers can be lowered with a bit of ingenuity and experience, of course, but so far our visits have been very special treats. Recently, I watched the film No Impact Man as part of my wife Pamela's Celebrating the States blogging project, and it led me to think critically about the role of New York City — and cities in general — in human-environment interactions.
In my course on the geography of environmental problems, I use Andrew Goudie's Human Impact Reader anthology to help my students examine the spatial aspects of a variety of impacts humans have on the environment. In simple terms, the impact of humans on the environment can be summarized as I=PCT, which is to say that the human impact is a function of population, per-capita consumption, and the technology used for that consumption. As we read the anthology's seminal scientific articles on a wide variety of human impacts — from coastal erosion and soil degradation to flash floods and climate change — I emphasize the spatial dimensions of each of these impacts.
No Impact Man — which should really be called No Impact Family — is the story of one year in the life of Colin Beavan, his wife, and their young daughter. As the title implies, the goal of the family's year-long approach was to reduce their net impact on the environment to zero, by a combination of reducing negative impacts and increasing positive impacts, with an emphasis on pursuit of the former. Their effort leads to some important findings about the spatial dimensions one the other side of the equation. Specifically, how might high density mitigate or enhance the relative contributions of population, consumption, and technology?
In my earliest thinking about the environment, I viewed cities mainly as sources of environmental problems, given the high density of some sources of air and water pollution.  I have since learned that low density can also be problematic, as  suburban sprawl tends to increase the use of private vehicles, among other effects. From an environmental-impact perspective, the clearest advantage of urban density is the ability to reduce or eliminate automobile dependency and thereby eliminate a major source of climate-changing greenhouse gases. The Beavan family gave up airplanes and automobiles for the entire year, used trains only for long distances, and used walking and biking for almost all of their transportation needs. To do this while still enjoying access to many cultural, educational, and employment opportunities, it is almost essential to live in an urban place, where a great number of such opportunities can be found within a short travel distance.
In reducing their impact, the Beavins also focused a lot of their effort on food — growing some of their own and buying from nearby sources. The spatial dimensions of this are a bit more complicated. Food that is grown locally does not have to be transported very far, reducing the use of fossil fuels for transportation. Food that is grown organically does not require chemical inputs (and therefore eliminates chemical waste streams). Eating low on the food chain — that is, vegetarian or vegan — further reduces the use of both energy and chemicals. An advantage of pursuing these goals in an urban setting is that a critical mass of like-minded consumers can be found, creating enough demand for farmers from the region to supply urban farmers' markets. Whether such efforts could ever be scaled up to supply the entire food needs of major metropolitan areas, however, remains to be seen.
Colin Beavan hopes to have an impact beyond the one-year experiment. His No Impact Man blog is an effort to build on the experience.